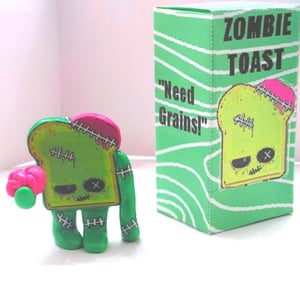 $

13.00 - On Sale
"You put him away in the cabinet to mold, now he is back to seek his revenge on you and your kitchen!"
He has broken out and is attacking everything in site! The jar of Smuckers on your counter has had it, as he claims it's sweet jelly brains for his own and proudly displays them in his moldy hand!
"Zombie Toast Need Grains!"
Each 2" body is hand sculpted from vinyl clay and hand painted. The faces are printed on plastic to ensure the continuity of each figure and placed in a handmade, signed and numbered boxes.
* Please notes as each and everyone of these figures is completely handmade the color, size, paint job ect. may vary slightly*